Innovative Solutions. Exceptional Service. Reliable Results.
Our primary client base consists of technology leaders of medium enterprise businesses. We are uniquely capable of supporting these clients because our technology consultants have the business knowledge and experience at that level to support their business objectives. Our service technicians are highly trained and have many years of experience working in complex technology environments.
Technology should support business processes and, when managed correctly, help employees enjoy their work. We understand that a happy worker is a productive worker and technology problems can cause significant workplace stress and productivity loss. We take pride in our ability to speak to high level technology professionals and help users who may have little technical knowledge.
Select technology professionals.  In addition to requiring a high level of technical knowledge and real-world experience, our team has to be good with people.  We understand it's the people to use the technology so we are courteous, kind and helpful.
Select technology hardware and software.  We believe you get what you pay for, so we help clients understand the costs and benefits of using quality components and software.  We have well-established vendor relationships that gain preferred attention for our clients. We also have a testing lab we use to test new technology before trying to install them in client environments.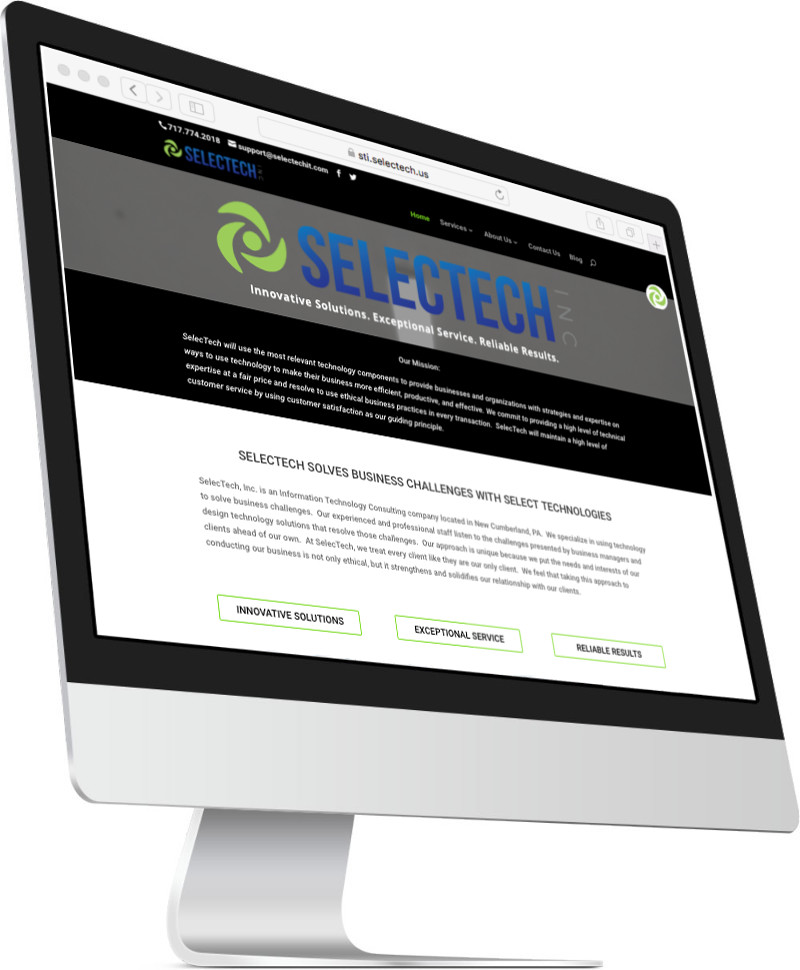 SelecTech is focused on providing small and medium businesses in South Central Pennsylvania with the technical expertise they need at a price that is affordable with the level of customer service they deserve. We draw from almost 20 years of experience in the IT industry to help small and medium businesses address their operational challenges. In that time frame, we have worked with businesses and organizations from local government to state agencies and from 2-person accounting firms to 15,000 employee health care organizations. Our current client base includes professional services firms, manufacturing, local government, non-profit organizations and healthcare organizations. SelecTech's team of experienced IT professionals have the knowledge and expertise to provide solutions to business challenges of any size organization in any industry.
Typically, small business clients (50 or fewer computers) will use SelecTech as the systems administrator.  We are very involved in providing direction for technology decisions as they relate to business activity as well as provide most of the support for issues.
Medium-sized businesses (51 to 500 computers) will typically use SelecTech for specific projects, as a subject matter expert, and for staff augmentation. Regardless, SelecTech is applicable to any sized business and we are capable of effectively communicating with a business owner as well as a network administrator.
Focus on supporting the client's business objectives.  Always show clients how our solutions support their business objectives. We often provide ROI metrics with our technology proposals and quotes.
Understand how technology affects our client's people and culture.  Mismanaged or break-fix technology solutions can have a very bad effect on company morale, leading to frustrated staff and heightened stress.
Establish expectations and communicate clearly. We don't over-promise. We help to manage expectations and then drive to exceed them. We keep open lines of communication, so clients clearly understand what we are doing and have a path to support questions and concerns.
Responsiveness. We know the cost of inefficiency.  So, we clearly communicate our response expectations with clients and drive to exceed them as much as possible.
Maintain professionalism and courtesy in every interaction. Nobody likes a technology know-it-all.  We understand that technology and change is challenging for many people.  We are uniquely able to communicate to both high-knowledge technology people and everyday users.  
Embrace and drive continued education.  In addition to hiring only select technology professionals, we provide additional training and even have a testing lab where we test new technology and solutions.
SelecTech, Inc.
717.774.2018
1309 Bridge Street, New Cumberland PA 17070